RS Feva World Championship 2018
As 102 excited sailors arrived at Clearwater Community Sailing Centre there was a buzz in the air due to the breezy conditions. With a good 15 knots blowing through the boat park the sailors were all very keen to hit the race course.
Once the sailors and coaches had received the dinghy brief (with the usual content around kill chords) all the sailors were pumped to get on the water.
After a short delay the sailors were released from the beach. The Race Committee had selected race area 'A', which meant a long sail / tow to get out into the Gulf of Mexico. The sailors arrived at the race area in light winds as the mornings initial breezy conditions faded away.


RS Feva World Championship 2018 day 2 - photo © RS Feva Class Association
Race four (first of the day) started in light, tricky conditions but GBR7064 (Tom Story and Rupert Jameson) had very little issue in leading the fleet to the windward mark with a significate lead and then on to the finish. CZE6965 Jakub and Veronika were second with the Canadian team CAN7036, making a surprize appearance in the top 10 with a third. After the disappointment of day one, Tom and Rupert had made a clear statement to the fleet that they were still in the hunt for the world title.
As the wind began to build during race five USA6851, Dieter and Conrad got back on form with another outstanding bullet, this result will leave them first overall with GBR7064 in second and third was GBR7063, Ben and Abi.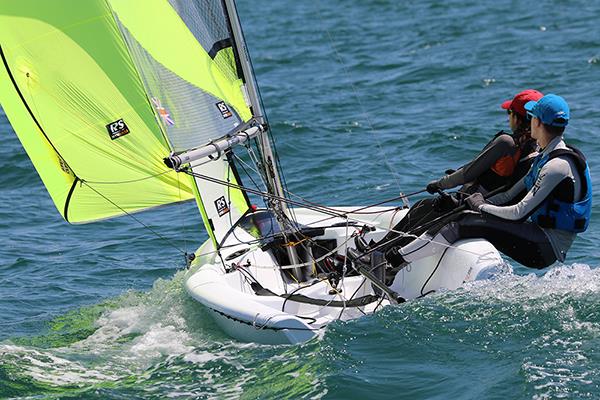 RS Feva World Championship 2018 day 2 - photo © RS Feva Class Association
Race six and seven were raced in slightly more breeze as the Gulf of Mexico came to life to provide champagne conditions. 12-15 knots with the slow rolling waves made for perfect racing conditions, GBR7063-Ben and Abi completely embraced the fresh conditions with two bullets. In race six, GBR6985 William and Becky Caiger sailed very well to finish second, just in front of GBR7064 Tom and Rupert. In the last race of the day (race seven) USA6851 Dieter and Conrad, returned to the front of the fleet with a second closely following by GBR7064 Tom and Rupert.
As the boats reached back into the beach, many of sailors were guided home by the dolphins that came out to play. Clearwater and the race team had delivered another spectacular day of racing.
National RS Feva Class Associations
Select your flag to access your National RS Feva website